Reduced Priced Vegetable with Black Spots or Bruises are a Blessing in Disguise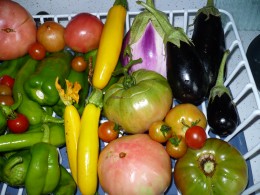 13 Pound Turkey Including Dressing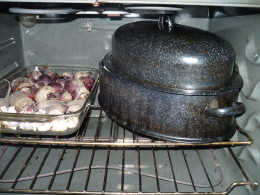 Steps to A healthy,Frugal Roast Turkey Dinner
It has been my experience that shopping on a Tuesdays or Wednesdays saves hundreds of shopping dollars in a year. The major grocery chains usually run specials Saturdays and Sundays to draw you to their store and rid you of your Fridays pay check.
These specials do consists of many products through out the whole store. It is the meat and vegetables left behind after these sales are over that we want to purchase. These leftover piles are in corners of meat counters or stashed in the far corners of the raw vegetable sections of the store.
There is nothing wrong with these meat products except the due date is on the day you are in the store… which means you take it home and cook it that day or freeze it immediately.
The meat will have lovely little 2-3$ off stickers on them to make a faster sale to prevent throwing it out. The vegetables will be bagged up in bunches usually around a dollar a bag because there maybe a black spot on it so it is not perfect and they can't sell it for full price.
Another great way to save is to use coupons that save you 40cents, 50cent or even a $1.00 dollar off.
You can clip these from your grocery store flyer's, find them pinned to the shelves with the products you wish to buy or the best way is to download them off the Internet. You can save huge doing this as there are coupons for almost every thing and some products are even free samples coupons to give them a try.
The only product that doesn't have coupons is fresh vegetables and fresh fruit but like I said look for the bags of slightly damages fruit and vegetables cut the bad spot off and use or freeze the rest.
At Christmas time of the year you can usually purchase a turkey for 99 cents a pound. A turkey for twelve dollars ( 99 cents a pound making it a twelve pound turkey), stuffed with fruit or dressing will feed a family of six people easily. For this price it would be a shame not to have a Christmas dinner.
Suzzycue roasted this turkey from frozen and in five hours had a meal of roasted turkey, dressing, roasted butternut squash,roasted beets with garlic and a drizzle of olive oil ,salt/pepper.
Cost per Plate for Thanksgiving or a Christmas Roast Turkey Feast?
You could say less than $3.00. WOW!
Frozen Butterball turkey with dressing -$13.95 divided by six equals $2.35
Butternut squash- $1.00
5 pounds of beets -$1.00
garlic was a gift from my Boss.
I love to take an onion and stick cloves into it with a few apples cut into quarters and stuff into the cavity of my turkey for a different delicious flavor that doesn't dry the meat out at all. Also it helps to cook the turkey upside down in the roasting pan with the turkey breast on the bottom, this keeps the white meat juicy.
GIFTS: Money is tight for me this year more than last year so with gifts, I had to get a little creative, since I don't knit. So, I shoveled my neighbors driveway. You can dog or cat sit for someone heading south for a vacation. Offer to do odd jobs of gardening in the spring, and walk your brother's dog. I also paint houses inside and out and someone always needs some of that done. So don't spend your hard earned cash on presents, keep that for paying your bills and use your talents for presents to enjoy an old fashioned Christmas.
Have a Good one!!!