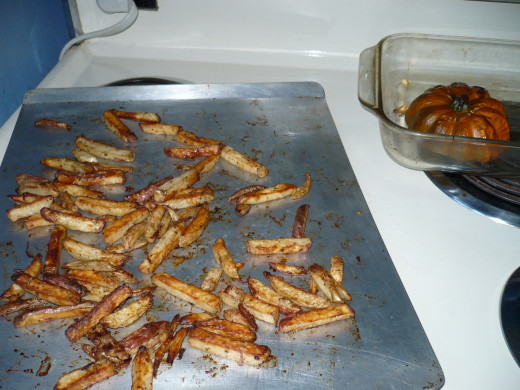 I am a frugal food shopper. The roasted vegetable tips I am showing you today started with purchasing a $.99 cent bag of vegetables. There were eight medium size potatoes, different varieties of red and white,one acorn squash and an elephant garlic. (Elephant garlic is called that because of it's size.)
Lets get started!
Ingredients For Roasted Vegetables
1 elephant garlic bulb, cut top off
1 acorn squash, cut in half
8 medium potaotes red and white varieties, cut into sticks
2 tbls olive oil
2 tbls Balsmatic Vinegar
1 pinch salt/pepper
1 tbls bas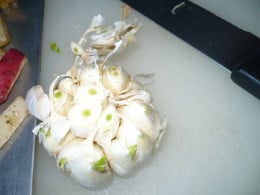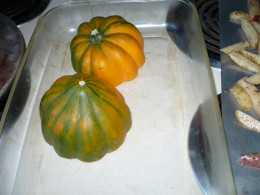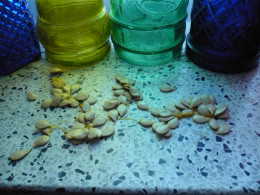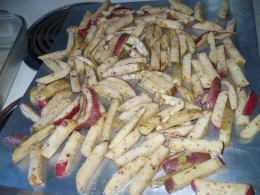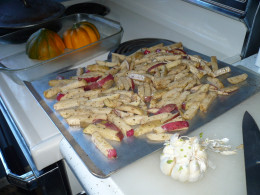 Balsamic French Fries, Roasted Squash And Roasted Elephant Garlic
Prep time: 15 min
Cook time: 30 min
Ready in: 45 min
Yields: Serves four people
Instructions:
Roasted Garlic Roasted Acorn Squash Roasted Balsamic Vinegar Fries
All I did to the garlic was cut the top off and drizzelled olive oil over the top. The cooking time for this garlic will be only ten minutes so don't forget it in the oven. After the garlic is roasted I squeezed the garlic cloves into a jar of olive oil to save them to add to other dishes. They easily squeeze out after roasting them.
The acorn squash was washed,cut in half, take the seeds out, drizzelled with olive oil and set cut side down on the oven roasting pan. This way it will steam itself until soft and yummy.
The seeds I dry out for planting in my friend's garden or you can set them along side the acorn squash in the pan with a little salt to roast them also. These acorn seeds make a healthy midnight snack.
The potato fries I cut with a french fry cutter that I have used for years. You have seen them. You place the potato in and slide the handle against the potato pushing it threw the blades to make perfect fries every time. I got mine at a yard sale for a buck. If you don't have a fry cutter, cut the potaoes lenth-wise into thin wedges. They will cook just as well that way. Then I put them into a bowl and mixed in the balsamic vinegar,olive oil, salt/pepper and basil. I wasn't thinking I had rosemary that would have tasted, wow, on these fries. Put your oven on 400 degrees and put all fries ,acorn squash, and garlic into the oven at the same time. The garlic will be done in ten minutes, The acorn squash and fries will take about thirty minutes. Enjoy. Cheap food eating doesn't have to be boring. Thanks a lot for reading. Your comments are always welcome.
Tips For Cheap Food
TIP: The best way to know if your squash is good, is by thumping it with your forefinger. If it does not sound hollow than it is too ripe and no good for cooking.
Sweet potatoes need to be hard all over. You are buying cheap because of the time of year not quality of your vegetables.
If your garlic is spouting all over the top, chances are it is also too old, but if you cut the sprouts off right away, it would be still good to roast.
Make sure when you keep garlic cloves in a jar of olive oil, the oil completely covers the cloves or they will spoil. Then you can use them for dips,mix with butter to make garlic toast and anything else you enjoy garlic in. The roasting of the garlic really bumps up the flavor of the bulb.
Roasted Beets Recipe
Roasted Beets With Roasted Garlic Salad Quick Easy H…Roasted Beets with roasted garlic is an easy, healthy family recipe. Eating beets will cleanse out your blood and your liver. Drinking beet juice is a powerful re-hydration for your body and does increase your energy. The video… Beets and Beet Juic
DIY Healthy,Easy,Quick,Affordable Recipes Index
DIY Healthy Easy Quick Affordable Recipes IndexYou can achieve these recipes even if you never ever cooked before. It's been said that if you learn to cook, you can eat healthy using real ingredients you buy on sale instead of heating up box food.