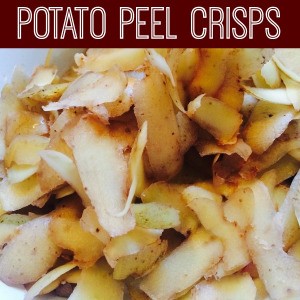 When  I saw this on Thriftyfun.com I just had to share it with you.
These photos and recipe for Potato Peel Crisps are the brilliant ideas of Attosa. She is a Musician from L.A. that loves to cook. Don't forget to give her a thumbs up for this great frugal tip.
 I am a new member there and it is a fun site, where you can enter and win prizes for recipes or sharing your pet picture ,craft projects and read frugal tips from the writers there. They share tips and ideas for crafting, creative recycling ,gardening, frugal living, recipes, cleaning and more. Membership for Thriftyfun.com is free.
Now lets get back to the recipe. Attosa had the brilliant idea of saving the potato peels after peeling potatoes and roasting them instead of throwing them in the garbage, like I do. I do not compost because I live in an apartment. (Any ideas to help with this let me know…Thanks 🙂
 I thought, I never wasted anything until I saw this. This is the ultimate frugal idea for saving food dollars.  I won't throw potato peels out anymore, now that I found this delicious recipe.
 I can hardly wait to peel my potatoes, to put in the roasting pan around my turkey for Sunday dinner.  I will put the potato peels right along side my roasting pan to crisp up for my hors d'oeuvres. We will enjoy these crisps while waiting for the dinner. What a great catering idea, Many Thanks to Attosa for sharing 🙂